Meet Luisa, Raul and Manu from the Club MAC entertainment team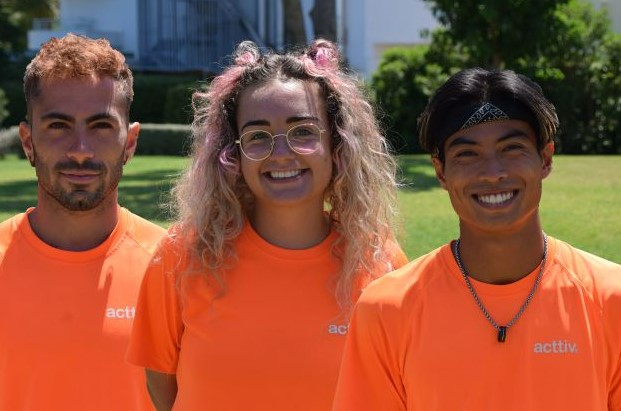 Club MAC is a popular family holiday destination in Majorca for more than just the picturesque island location and our all-inclusive holiday packages. A big attraction with our guests is also our many entertainment activities and events curated carefully for all ages and interests. Behind the scenes of our brimming entertainment calendar is our dedicated entertainment team working extra hard to ensure that everyone has a great time at Club MAC.
Meet three of the stars of our entertainment team and find out what makes them tick!
Meet Luisa!
Luisa is from La Solana in Ciudad Real, Spain. They speak Spanish and English and have been with Club MAC for a year now since the end of August last year.
What do I do at Club MAC?
I am a multipurpose animator! I especially dedicate myself to the mini club.
What do I like to do when I am not working?
I like to read, watch tv shows and movies, listen to music, do photography (and videography) and editing, and I like to spend time on social networks.
When I am away from work, I take time to rest and unwind. I like going out to eat. I enjoy going drinking and dancing with my co-workers and friends. I am fond of experiences, so I love going to festivals and meeting new people or discovering the island where there are lots of fun things to do for visitors as well as residents.
What do I do in the winter?
I am always on the lookout for something new. While I tutor two children and help out my cousin with her shop, I also want to learn and experience new things. I believe in taking risks to advance and evolve. Someday, I want to live in a new country where I can continue to improve my English. This will help me be a pro with next year's Club MAC guests!
Meet Raul!
Raul too is from La Solana in Ciudad Real. Like Luisa, they are a native Spanish speaker but also speak English. This is their first year at Club MAC and they're here for the entire season.
What do I do at Club MAC?
I am an entertainment polyvalent here, so I handle many different aspects of the entertainment activities for our guests.
What do I like to do when I am not working?
I enjoy travelling, going to the cinema, and hanging out with my friends who I can always have a laugh with. I also find it relaxing to express myself through physical movement.
Relaxation and tranquillity are important for me, especially when I am away from work. That aside, I enjoy music, dancing, going out, discovering new places, and meeting new people.
What do I do in the winter?
I could do many things in the winter months, but I prefer to return to Madrid to continue with my interpretation exercises. I might also want to visit Dublin and spend some time there improving my English. That would give me a boost at Club MAC with the guests next season.
Meet Manu!
Manu, unlike the others, is all the way from Wetteren in East Flanders, Belgium. They are a polyglot and speak Dutch, French, English as well as Spanish. Manu has been with Club MAC since 2019 and is one of the senior team members.
What do I do at Club MAC?
I am part of the Entertainment Team of Club MAC.
What do I like to do when I am not working?
My favourite hobbies are breakdancing and gymnastics. When I am not working or pursuing my hobbies, I enjoy sightseeing, playing video games, or going out on excursions.  As you have guessed, I like activities that involve physical movement, which makes Majorca a great place for me.
What do I do in the winter?
I am a foodie and I eat a lot!
Staying at Club MAC this season? Check out the entertainment calendar for the coming months to see what's been put together for you by Luisa, Raul, Manu and their amazing team.
Categories: Alcudia, All inclusive, Entertainment, Services
« Spot these S'Albufera wildlife around the Club MAC lakes!
What's your perfect evening at Club MAC? »